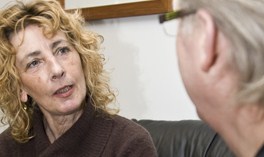 A sample of endorsements from delegates who have participated in OCST courses and Workshops
OCST 2 Online Counselling Skills Course
"I recently completed the OCST 2 Diploma, which was a fantastic course, created and delivered by Jane Evans, who has a huge wealth of knowledge, experience, and skills working in the field of online counselling, which she was generous in sharing during each of the weekly course meetings. The learning resources and student handbook Jane provided, were excellent, which aided my learning, and developed my knowledge and understanding of all the different subject areas involved in providing online counselling. It was also a fantastic opportunity and really helpful, to practice using different online mediums through role play with a fellow student on the course. The weekly course meetings were also a great opportunity to engage with fellow students, and with Jane, and I experienced Jane to be supportive and helpful with any learning queries related to modules, subject areas, and efficient in providing regular feedback about coursework. I would highly recommend this fantastic course"

I enjoyed working with Jane during our online sessions very much. The course is very comprehensive, and I learned everything the guide she provided said I would plus my face-to-face skills also improved. I learned in such a way that the new knowledge and skills stayed with me, helping me start and run a successful private practice with confidence.

I found Jane very easy to get on with as the warmth of her personality was quite tangible in our instant messaging calls and emails, she was kind when I made mistakes. This, I feel, makes her way of working with others a helpful model for my own practice.

I would thoroughly recommend working with her as an online tutor in the well-designed courses she offers.

I recently completed the OCST 1 Online Counselling Course with Jane. The course was well structured, informative and clearly laid out in the course guide provided, with links to relevant reading. The assessment procedures were also explained thoroughly. The tutor and peer student interactions simulated the way online work will take place and gave great insight into online communication and counselling and how it differs from face to face work. By working on developing online skills during the course, and having regular tutor feedback, I was able to the learning into practice. The course opened my eyes to how online counselling can be effective and helpful to clients, and how it needs to be delivered safely and ethically, whilst also being aware of the drawbacks and limitations.
Cecilie Sasu – Private practice face-to-face and Online


OCST 1 Online Counselling Skills Course
I found the course exceptionally informative and enjoyable. I feel as though I've learned a great deal and my confidence in using different online mediums for communication has significantly increased. The structure of the course has really helped me think about how to provide online counselling and how to develop an online counselling service. The course activities build each week into helping me see my own personal model for online counselling as well as all the practical, ethical and legal considerations that need to be borne in mind. Thank you, Jane for your help and support.
Wendy, Counsellor

OCST 1 Online Counselling Skills Course
As a counsellor new to online work I wanted to know that I would still be able to work ethically and professionally. I therefore looked for some training to ensure that. I chose OCST because it seemed to cover all the issues (and more that I hadn't thought of). I was not disappointed. I found the training from OCST and Jane Evans to be very flexible and thorough and when I find that my thinking was a "little out of the box" Jane was able to accommodate that within the training or skilfully "rein" in my adventurous side. It was an interesting and enjoyable course.

OCST 1 Online Counselling Skills Course
Undertaking the online counselling course with Jane was a stimulating, thought provoking and affirming process. With Jane's experience of online counselling in Higher Education she was able to guide me in how best to use this approach at Cardiff University. I was encouraged to think about how I could apply my existing counselling skills to an online context, and to consider the ethical issues that are unique to this way of counselling. I completed the course feeling positive and confident to set up the online counselling service here. I wholeheartedly recommend this course for anyone considering starting online counselling, as there are unique differences and ethical issues to understand and apply.


OCST 1 Online Counselling Skills Course
I chose this training in order that DeMontfort University could offer ecounselling as part of the provision from Counselling and Personal Support, where I'm a team member. We're close to launch now – some details still with our techie people. I used the course to get skilled up for internet counselling as an individual and to head the team in this direction – I'm anticipating others getting trained up as we build.
The course got me grappling with the issues of internet working in a structured, sequential way. Lots of good references, links, and printed coursework book made it interesting, diverse learning. I also took the opportunity to write our ecounselling docs – policy, online booklet, online application etc during the training. This made it hard, intensive work but has really paid off in thoroughness and rigour.
I wanted a course that could be done entirely in 'works time' (over a summer) and so OCST 1 - individually tailored – suited me just right. Lots of intelligent engagement from the tutor I think made up for the lack of a learning cohort.
The spine of this training is the BACP Ethical Framework and Guidelines for online counselling and psychotherapy. This is a rigorous frame within which to work, and is another part of what constitute a very sound training.




OCST 1 Online Counselling Skills Course
This has been a very interesting course and has really helped me develop my skills for the practice of online therapeutic work. Amy, Wellbeing Practitioner and CBT Therapist, Cardiff University Counselling, Health and Wellbeing Service


OCST 1 Online Counselling Skills Course
I now feel much more knowledgeable, skilled and prepared to undertake online work in our service. I would not want to undertake this work without such a course as there are additional skills and considerations for even the most experienced face to face counsellor. The online Skype support and feedback was excellent. It was a good mix of theory and practice and I was able to fit it into my working day with some time allocation from my manager. Thanks Jane.



OCST 1 Online Counselling Skills Course

I found Jane's OCST 1 course to provide an interesting insight into the ramifications of online counselling, for learning new skills and for how to apply existing ones to an online context. Many Thanks!



OCST1 Online Counselling course
I undertook the OCST course in my capacity as a part-time student counsellor, with a view to assisting in the introduction of an email counselling service. The course material seemed very accessible for a counsellor with this objective A varied and interesting range of activities were provided, reflecting a great awareness of the issues and the satisfactions of practice within an educational environment. All aspects of the course delivery encouraged engagement with, and exploration of, computer mediated technology. I also enjoyed the structured approach and consistent pace of the course, and the high level of individual attention I received. I feel as if my understanding of and attitude towards online practice has undergone a lot of development.

OCST Online Supervision Course
I recommend this supportive, flexible course in online supervision. Having worked via instant messaging for 2 years, I have found it particularly helpful to experiment with other forms of online work (Skype/use of webcam and e-mail counselling). I now feel more competent in offering my clients and supervisees alternatives to instant messaging.



OCST 2 Online Counselling Course

"Learning together as a group and discussing issues on the Forum gave me a tremendous feeling of support and the course Wiki was full of interesting information. I recommend this course without reservation and am looking forward to training further with Jane".
Julie Stocks.

"A highly supportive, educational and enjoyable course that I would recommend to anyone interested in Online Counselling.
All you need to know is covered and explored through group meetings, supervision, forums and other invaluable communications.
Whether you are a beginner or have had some experience within this field, the course will effectively develop your skills and enhance your learning"


"I wholeheartedly recommend this course. Although I am a very experienced counsellor, I have learnt so much, reviewed my skills and their use both on-line, and face-to-face. The benefits are considerable. For anyone wishing to gain greater understanding of e-counselling, then this is a very good course to take". -

"I work exclusively in private practice now but have previously worked as a counsellor and clinical supervisor in the NHS, Education, RELATE and a Hospice. I'll put my hand up and admit that I was sceptical when I first heard of ecounselling but over the duration of this course I've become a convert. The course was genuinely ethical and offered a comprehensive and stimulating experience of all the skills and competencies involved for online work. Using the core skills and other online competencies that were skilfully taught to me by the excellent tutor on the course has given me the confidence to say 'yes' a therapeutic relationship does and can exist online."


OCST Online Supervision Training Course
If you are looking for a course that will give you new skills, remind you of old ones, stimulate your thinking, enhance your presence online and offers value for money?? Well look no further! The supervision course offers all of the above. I have recently completed Part 1 and I highly recommend it. What was covered in this course in six sessions; could take months to learn in a different context. The standard is high, and the cost is low....it is certainly a bargain!......what more could a prospective student ask for in a course?

I wanted to say a big thank you for the training you have provided, it has been fantastic and very in depth. I never realised I would process so much, and write so much also. I feel extremely well equipped to begin my full journey into all forms of online supervision now.